To resolve specific security findings:
Navigate to Security Findings > Active Findings on the left-hand navigation

Under the Actions column, click Resolve for the security finding group you want to have reviewed by Coalition. You can also select the security finding itself and hit the Resolve button on the side panel that pops out.

Input a Reason why you would like to submit a request to resolve this finding.

Click on the checkbox and hit Submit.

Requests to resolve a finding can take up to a week to review.
Example: You can resolve certain critical security findings through attestation. One possible use case is if you have an exposed web panel and MFA is enabled throughout your organization. You can now attest that you have MFA in place which results in Coalition resolving the issue and removing it from your list of Active Findings. Please note that by clicking 'Resolve', you accept the risk that comes with removing the finding and that it may impact your cyber policy coverage.
Would you like to provide additional evidence that you've taken the necessary steps to remediate a security finding?
After selecting Resolve against a finding, go to the Upload Evidence section and upload a single image file for Coalition to review.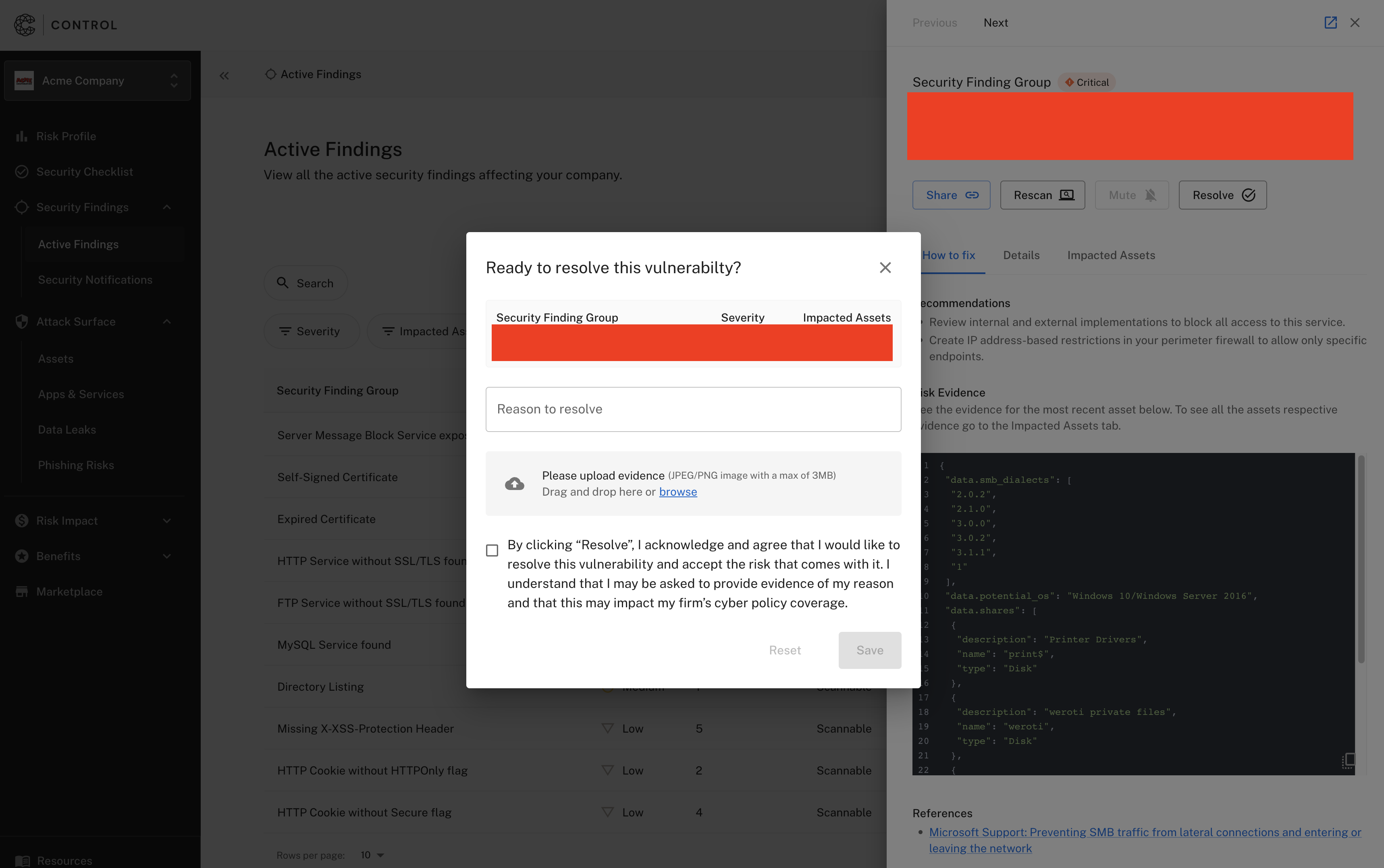 What happens after a resolution request is approved?
Once a resolution a request is approved:
The security finding for that asset will no longer appear on your future scans
We will stop alerting you about it if it was a critical security finding
Risk Score and Scan History will be updated appropriately. Keep in mind that lower severity security findings (i.e. Highs, Mediums, and Lows) will not impact your score as much as critical security findings.
We will keep track of all requests in the Resolve Request Log
If we detect this finding again on a different asset, only then will we alert you (if the finding is critical).